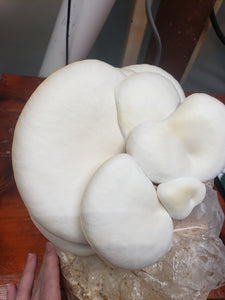 Native PA White Oyster Mushrooms.
Want to grow your own gourmet mushrooms? Our Table Top Farms are a simple and easy way to enjoy delicious, fresh mushrooms in our own home. The are perfect for people interested in growing mushrooms, gourmets, science projects and gifts.
These are the same strains and mushrooms that we use at our farm and we guarantee that they that they will fruit at least once.  With a little work they might fruit a few more times. You should get at least 1 lb of mushrooms from this kit.  All instructions included.

Note: Kits are ready to fruit when you receive them. If you need to delay fruiting, when giving as a gift, refrigerate them up to 4 weeks. Mushroom should be ready to harvest within 10-14 days.